CANTERBURY'S LEADING SAME-DAY COURIER SERVICE
iDeliver is Canterbury's leading door-to-door daily Courier Service, operated from the heart of Waipara Wine Country! iDeliver provides extensive coverage of Canterbury delivering as far north as Omihi and also as far south as Timaru, Temuka, Ashburton, Geraldine, Mayfield & Methven.
Through our local freight partners, we can also offer daily and/or overnight services to/from Akaroa, Waikari, Hawarden, Culverden, Rotherham, Waiau, Hanmer Springs, Greta Valley, Culverden & Kaikoura.
iDeliver currently has 15 vans, powered by a team of 19, operating on scheduled runs, similar to a bus timetable. We aim to pick up and deliver all Canterbury (Timaru, Ashburton, Selwyn, Christchurch, Waimakariri & Hurunui) pickups within a 2-4 hour turnaround, servicing most townships several times daily. Check out our timetables for indicative pickup and delivery times.
We carry goods for Individuals, Small Businesses, Wineries, and the Corporates alike throughout the Hurunui, Waimakariri, Christchurch, Selwyn, Ashburton & Timaru Districts.
Established in 2013, our Waipara-owned and operated business has grown from strength to strength providing a fast, efficient, and professional daily Courier service to the Hurunui, Waimakariri, Christchurch, Selwyn, Ashburton, Timaru Districts, and beyond.
OUR SERVICES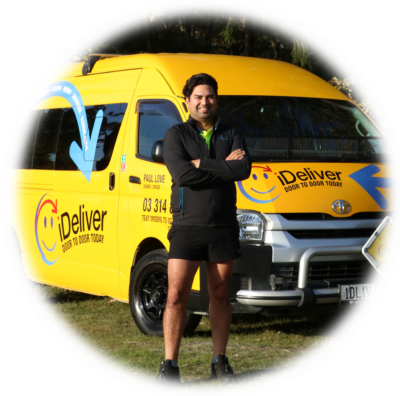 Need something Pronto?
iDeliver provides a same-day courier service, on set schedules, across the majority of Canterbury. If you need something pronto, you've come to the right place!
Flowers & Gift Baskets?
iDeliver provides hand delivered, same day delivery of flowers, gift baskets and other treasures for a number of Florists and gift providers within our service area.
Pallets & Large Items?
Our trusty long wheelbase Toyota Hiace, and Renault Master vans are able to carry a full sized pallet up to 1.5 tonne. We can also carry items up to 3.5m in length, 1.7m Wide, and/or 1.6m Tall.
Long Haul or Inter-Island?
We hold accounts with several Nationwide Courier & Transport companies allowing us to offer you an NZ-wide delivery service while maintaining a single contact. If you wish to have a quote for an item to be sent, please message us with the item's dimensions, weight, and pickup & delivery address, and whether the item is fragile, and we can provide a quote from there.
This Weeks Operating Hours

	
		
Mon, 11th Dec:

		
7am – 7pm

	
	
		
Tue, 12th Dec:

		
7am – 7pm

	
	
		
Wed, 13th Dec:

		
7am – 7pm

	
	
		
Thu, 14th Dec:

		
7am – 7pm

	
	
		
Fri, 15th Dec:

		
7am – 7pm

	
	
		
Sat, 16th Dec:

		
8am – 12pm

	
	
		
Sun, 17th Dec:

		
Not Operating